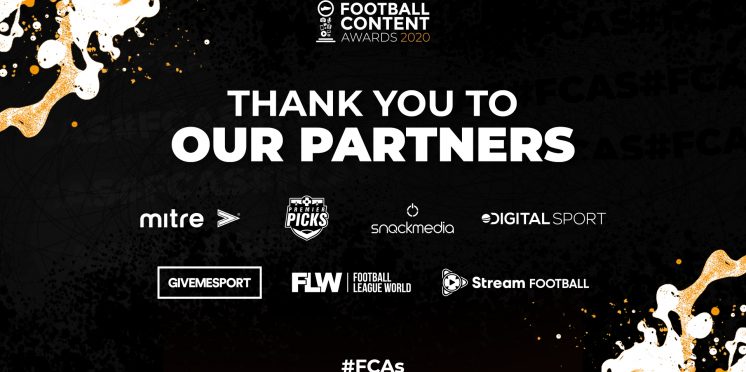 A Huge Thank You To All Our Partners!
We want to extend a special thanks to all our partners who have been involved in this year's awards.
Snack Media – Sponsor of the Best Club Content Creator and Best Content Creator Awards. Snack have delivered the Football Content Awards for the past three years. Without them, the event simply wouldn't be going ahead. In a year which has been torn apart by COVID-19 they have committed extra time and resource to ensure that the awards went ahead even when it looked for a time like it wouldn't be able to.
Mitre Sports – Sponsor of the Best Young Content Creator Award. Global brand Mitre is the official ball supplier across many leagues and competitions in both the men's and women's game, with its most notable appearance in the Emirates FA Cup, one of football's oldest and most iconic competitions.
StreamFOOTBALL – Sponsor of the Best Football Club Award. StreamFOOTBALL is a service that enables football fans worldwide to discover live content based on their interests and viewing preferences. The service aggregates live football content across all social platforms, linear and OTT providers. The service features football clubs, players and major publishers such as BBC, Sky Sports, Eleven Sports & BT Sport.
Digital Sport – Sponsor of the Best Branded Campaign Award. Digital Sport is part of Snack Media and the hub for the UK's digital sports industry. Through their website, podcast, events and social channels, they reach professionals working within the industry across clubs, agencies, rights holders, publishers and broadcasters
Football League World – Sponsor of every Football League Award. Football League World is a football news website that provides breaking news, views and opinions for the Sky Bet Championship, League One and Two.
GiveMeSport – Sponsor of the Best In Video Award. GiveMeSport is the number one sports publisher on Facebook. It reaches over 12M unique users monthly, including 26M Facebook fans, more than ESPN (19.2M) or SkySports (11.64M). It is part of the Snack Media Group.
Premier Picks – Sponsor of the Best in Fantasy Football Award. Premier Picks is a Premier League predictor based on all matches played in the Premier League 2020-21 season.
We look forward to seeing you all on Tuesday 8th December! For more information on the live stream, click here.
---