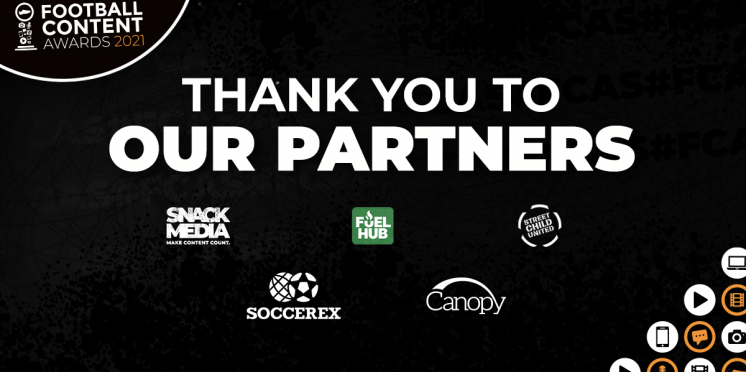 Thank You To All Our Partners
A huge thanks to all our partners who have been involved in this year's awards.
Snack Media – Sponsor of the Best Club Content Creator and Best Content Creator Awards. Snack have delivered the Football Content Awards for the past four years. They are leading digital fan engagement experts with over 60 million website visitors, the largest sports publisher on Facebook by following via GiveMeSport, 28 million followers across social media and 600m cross platform views. They put trust and integrity at the heart of the business to 'Honour the Fan' and 'Make Content Count' via authentic and engaging content. They work with both advertisers and publishers to increase revenue and their publisher network has grown over the last 10 years from a single podcast to more than 400 sites and their equivalent social platforms.
Fuel Hub – Sponsor of the Best Football Club Award. Fuel Hub make healthy eating easy! Their chef prepared meals are packed with the nutrients your body needs to function at its best. Created with a certified nutritionist and cooked by professional chefs, their meals not only taste amazing, they are calorie and macro counted so you can be sure your body is getting everything it needs to stay healthy and help maintain energy levels throughout the day.
Street Child United – Sponsor of the Best Young Content Creator Award. Street Child United is a UK charity using the power of sport, specifically international sports events, to change the negative perceptions and treatment of street-connected children everywhere. The fourth Street Child World Cup will be hosted in Doha 2022; the ten day event will bring together street-connected young people from across the world to take part in a football tournament, a festival of arts and advocate for their rights and protection through a child-focused Congress and General Assembly.
Soccerex – Sponsor of the Best Media Organisation Award. Soccerex has been bringing together the global football industry to network in a unique commercial environment for over 25 years. From hosting industry leading networking events across the globe to our market insight campaigns, we provide a platform to connect your business with the game's key stakeholders.
Canopy Media Management – Sponsor of the Best Branded Campaign Award. Canopy Media represents many of the largest publishing groups in the UK, selling their print, digital and insert advertising inventory on their behalf. Our partners include Telegraph Media Group, Guardian News & Media, Hearst UK, TI Media, Hello! Magazine and Haymarket Publishing Group.
---