Meet The Headline Sponsor Of The FCAs 22: Mola TV
The Football Content Awards are delighted to announce that Mola TV have joined us as a headline partner for 2022.
Mola is a multinational streaming platform with a passion for great sports content, combining coverage of major sporting events across Europe, South America and Asia with original programming. Mola entered the UK market in 2021 with a view to channelling the country's passion for football. Pub Talk, hosted by Alan Brazil and Ray Parlour has hit the ground running with candid interviews featuring the likes of Tyson Fury, Piers Morgan and Noel Gallagher amassing 4 million views in just 6 months. A new series, Dean Saunders' Soccer SOS – showcasing the highs and lows of grassroots football – is set to hit screens in 2023 along with several other exciting projects.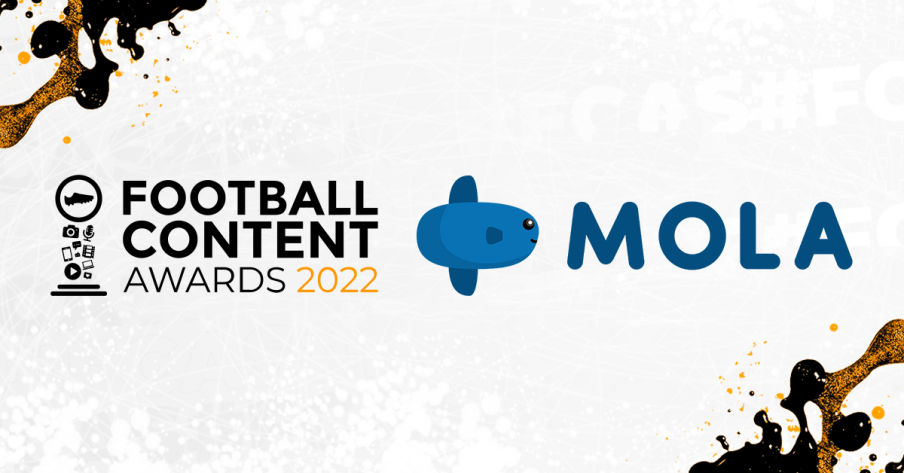 Rocket Long of Mola TV had this to say about the partnership:
The opportunity to partner with the Football Content Awards was a no brainer. Great storytelling is at the heart of everything Mola does and this event celebrates those who capture the pain, ecstasy and hilarity of football in increasingly fresh and exciting ways each and every year. We're buzzing to meet some of the nominees, have a few beers and inevitably talk about how it's coming home next month!
Anthony Cooper, founder of the Football Content Awards, said the following:
We can't wait to welcome Mola to the awards and to share their amazing original content with our audience. There couldn't be a better fit than ourselves and Mola in terms of vision and target audience, and they truly deliver a fantastic product. I'm so proud that they've come on board and that they'll be attending to add to what'll be a fantastic night!
The last few tickets for the awards are still available, and can be purchased via Eventbrite: here's the link.
---