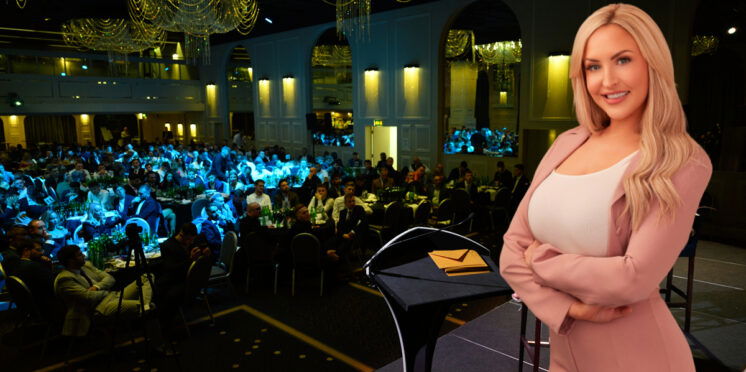 Emma Jones Returns as Host for the Football Content Awards 2023
Ladies and gentlemen, sports enthusiasts, and dedicated football fans, the moment you've all been waiting for has arrived! We are absolutely thrilled to announce that the one and only Emma Jones will be gracing the stage once again as the host of the Football Content Awards 2023.

Emma Jones first stole our hearts as the charismatic host back in 2019 when the event was held at the iconic Etihad Stadium. That edition marked the last instalment of the Football Blogging Awards before our transformation into the Football Content Awards we are today. Back then, Emma was already making waves as she was best known for her dynamic presence on LUTV.
Since her debut as our host, Emma Jones has experienced a rise in her career, carving a name for herself as a prominent figure in the world of sports broadcasting. Her journey has been nothing short of remarkable, and we are beyond proud to have her back at the helm of our prestigious event.
In the years following her initial hosting stint, Emma has become a familiar face and a respected voice in the sports media landscape, representing a plethora of renowned brands within the sports industry. Her impressive portfolio includes collaborations with BBC 5 Live, MOTDX, Viaplay, Premier Sports, GiveMeSport, Mola, Squawka, Planet Sport, and many more. Emma's versatility and expertise shine through as she effortlessly navigates various sports broadcasting platforms, offering insightful analysis, engaging interviews, and that unique charm that sets her apart.
But that's not all; Emma Jones's heart still remains loyal to her roots. She continues to work closely with Leeds United, maintaining a strong connection with the club and its passionate fanbase. Her dedication to the sport and her ability to connect with audiences of all backgrounds have cemented her status as one of the most beloved figures in football broadcasting.
As we eagerly look ahead to the Football Content Awards 2023, we can't help but feel a sense of anticipation and excitement. With Emma Jones returning as our host, we're confident that this year's event will be nothing short of spectacular. Her charisma, expertise, and genuine love for the game make her the perfect choice to guide us through an evening celebrating the finest achievements in football content creation.
So mark your calendars, football enthusiasts, because the Football Content Awards 2023 promise to be an unforgettable celebration, and with Emma Jones leading the way, you can bet it's going to be a night to remember. Stay tuned for more updates and announcements, as we gear up for an incredible event hosted by one of the industry's brightest stars!
---