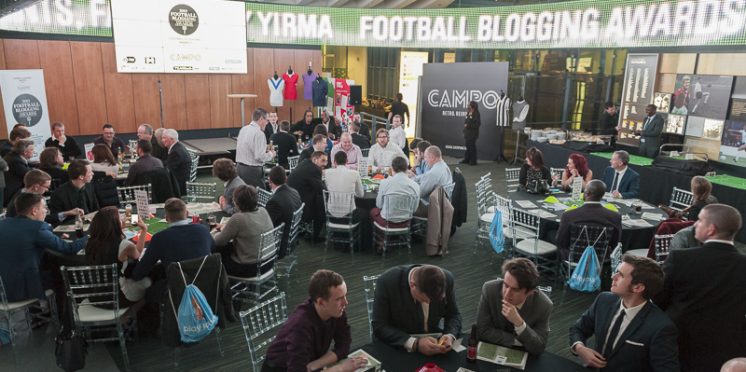 Now in its second year, the Football Blogging Awards 2013 took a huge step in its achievements. Just like football blogging in general, the last 12 months has come on in leaps on bounds.
Hosted at the National Football Museum, over 200 football bloggers arrived and eagerly anticipated the announcements of the winners. Just like any good football team there were 11 spots up for grabs.
In total, 30,965 votes were cast through Facebook, Twitter and Sportlobster, and attendees that stretched as far as Estonia, wined and dined with guests from Sky Sports, BBC Sport, Manchester Evening News as well as legendary footballer Mike Summerbee.
Guests browsed the amazing surroundings at the museum before presenter Natalie Pike kicked off proceedings and introduced the crowd to the partners and sponsors before showing the Football Blogging Awards introduction video and declaring the buffet open.
When awards were being dished out, twitter grabbed hold of the situation and The Football Blogging Awards were mentioned over 1,000 times in less than two hours without counting the multiple retweets.
First up for grabs was the Best Male Blog Award. Sponsored by Campo, Mike Summerbee took to the stage and announced the winner as ArsenalFanTV. Next up was the Best Female Blog Award which was given to Anna Louise Adams and presented by Women in Sport Magazine.
The winner of the Best New Blog Award received the highest votes out of all bloggers and to take the crown FourFourTweet walked to the stage as JD Sports handed over the glass award and certificate.
The Best Established Blog Award received the loudest cheer of the night as The Width of a Post, a Bradford City blog were announced as winners.
The Best FPL Blog was well received by Fantasy Football Pundits, a website that has over 10 writers dishing out many articles every week before Football Unites Racism Divides – the Football Blogging Awards nominated charity, joined the stage to present Too Good To Go Down as winners.
Bantams Banter – another Bradford City blog – ran to the stage to collect the Best Podcast Award which was presented by Matchchat before The Redmen TV faced off stern competition to win the highly coveted Best Video Blog and took the prize from Comments Below duo Poet and Vujanic representing Copa90.
Paddy Power's bloggers were next to be recognised as they were named the Best Gambling Blog, presented by the Betting Directory. Shortly after the youngest winner of the night took to the stage next as LFC Fans Corner won the Best Club Blog which was given by Sportlobster.
The final award to be given was Wenger Knows Best as Best Comedy Football Blog which TEAMtalk.com proudly presented before the raffle prizes were given out. The top prize being a signed Michael Owen England shirt from the '98 World Cup, a prize that was kindly donated by Sportlobster.
The total raised for Football Unites Racism Divides on the night was £176 and all the best photos from the night can be found on our photo reel video here
Full List of Winners and Nominees
Winners
Best Male Football Blog Winner – ArsenalFanTV
Best Female Football Blog Winner – Anna Louise Adams
Best Established Football Blog Winner – The Width of a Post
Best New Football Blog Winner – FourFourTweet
Best Comedy Football Blog Winner – Wenger Knows Best
Best Football Podcast Winner – Bantams Banter
Best Video Football Blog Winner – The Redmen TV
Best Football Club Blog Winner – LFC Fans Corner
Best FPL Football Blog – Fantasy Football Pundits
Best Non League Football Blog – Too Good To Go Down
Best Gambling Football Blog – Paddy Power
Nominees
Best Male Football Blog Nominees
Read But Never Red, Elastico Chop, Harry De Cosemo, The Republik of Mancunia, Whitehouse Address
Best Female Football Blog Nominees
The Liver Bird, Girls On The Ball, The Footy Lady, YICETOR
Best Established Football Blog Nominees
Arseblog, Five Year Plan, Standing On The Glebe, The Republik of Mancunia, Right in the Gary Kellys
Best New Football Blog Nominees
Futbolgrad, FutbolPulse, Sat in the Crowd, Sofa Football, Woolwich 1886
Best Comedy Football Blog Nominees
Danger Here, Feint Zebra, FitbaThatba, KSI, Off The Post
Best Football Podcast Nominees
Blue Moon Podcast, The Offside Rule, Bergkamp Wonderland, The Anfield Wrap, Wolves Fancast
Best Video Football Blog Nominees
ArsenalfanTV, FitbaThatba, Full Time DEVILS, KSI, Fifa Playa
Best Football Club Blog Nominees
Anything Palmeiras, Five Year Plan, Sky Blues Blog, Width Of A Post, This is Anfield
Best FPL Football Blog
Fantasy Football First, FantasyYIRMA, Fantasy Football Scout, Fantasy Premier League Hints
Best Non League Football Blog
26nil, Football Exclusives, No Clash Of Colours, Out of the League, The Cold End
Best Gambling Football Blog
Betfair, Bets of Mates, Footy Accumulators, OLBG, The Sack Race